Digital wallets
Online money transfers
Crowdfunding platforms
P2P lending services
Mobile cash registers
Online banks
Online insurance companies
Online exchange offices
Online stock exchanges
Online mortgages
Finance, trade and investment
Securities dealers
Financial agents and advisers
Leasing companies
Investment funds
Investment marketplaces
Crypto wallets and exchange offices
Crypto wallets
Crypto exchange offices
Crypto funds
Crypto ATMs
Payments and cash services
Mobile payments
Electronic wallets
Payment institutions
Payment service providers
Gambling, casinos and stakes
Online casinos
Online gambling
Online bookmakers
Online slot machines
Hotels and pensions
Accommodation facilities
Online bookings
Universities and educational institutions
Online education (e-learning)
Online courses and seminars
Telecommunications operators
Point of sale automation
Online purchase of prepaid SIM cards
Airlines
Online registrations
Online ticketing
Online healthcare
Telemedicine services
Online pharmacies and drug prescriptions
Online purchases (e-shops)
Online marketplaces
Online ordering of goods
Online tobacco shops
Online liquor stores
Online adult content
Online electronic services
Online submission of shipments
Online money services
Access systems
Owners meetings
Visitor registrations
Event reservations
Employee registrations
Recruitment
Our user-friendly 2-step identity verification process helps simply, quickly, reliably, and most importantly, securely onboard new customers.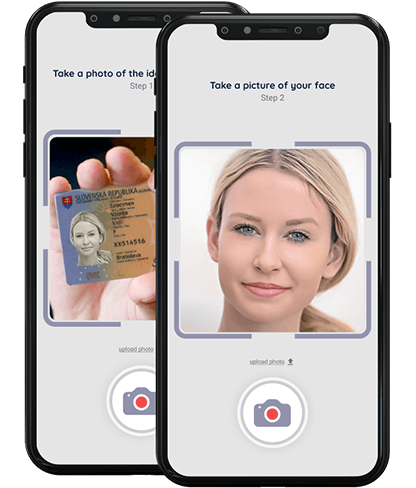 A flexible and secure VeriFace service that you can easily integrate into your work process.
Verify the identity of your customers in seconds to quickly open a customer account and mitigate risk.
You save time and reduce your operating costs.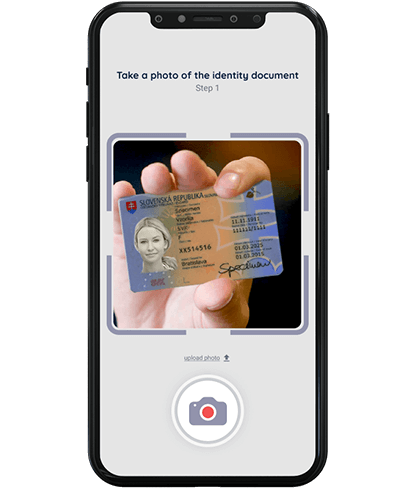 Verification of identity documents
Verification and authentication of identity documents in real time and on a large scale.
Extracting data from identity documents
Check the validity of identity documents
Verification of the number and series of identity documents
Verification of face photos from identity documents
Verification of a person's age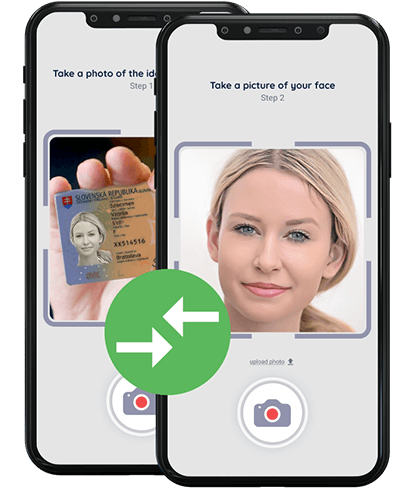 VeriFace service uses cutting-edge AI technology to verify your customers' identities.
Our technology compares facial photography from an identity document with a real photo of a customer's face and makes sure that both photos belong to the same person.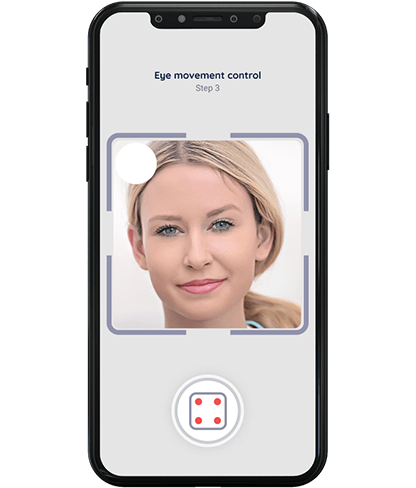 Add an additional level of security to prevent frauds.
Liveness check ensures that your customers are real and alive by asking them to perform a simple task on camera.
By its variability, the liveness check protects against pre-recorded videos by your customers.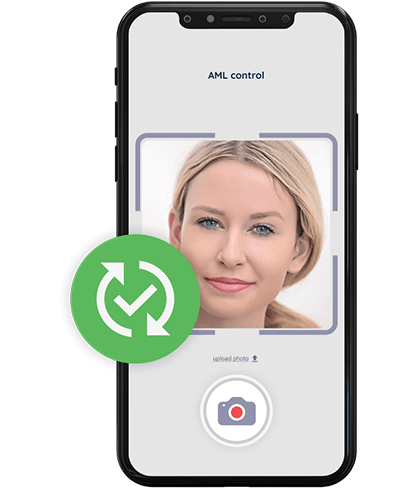 Protect your business and reputation with a risk assessment and risk management.
Check your customers' data worldwide based on more than 1.6 million verified profiles.
Ultimate beneficial owners
Politically exposed persons
Sanctioned persons
Media personality image
Regularly monitored data
Global coverage
Continuously updated data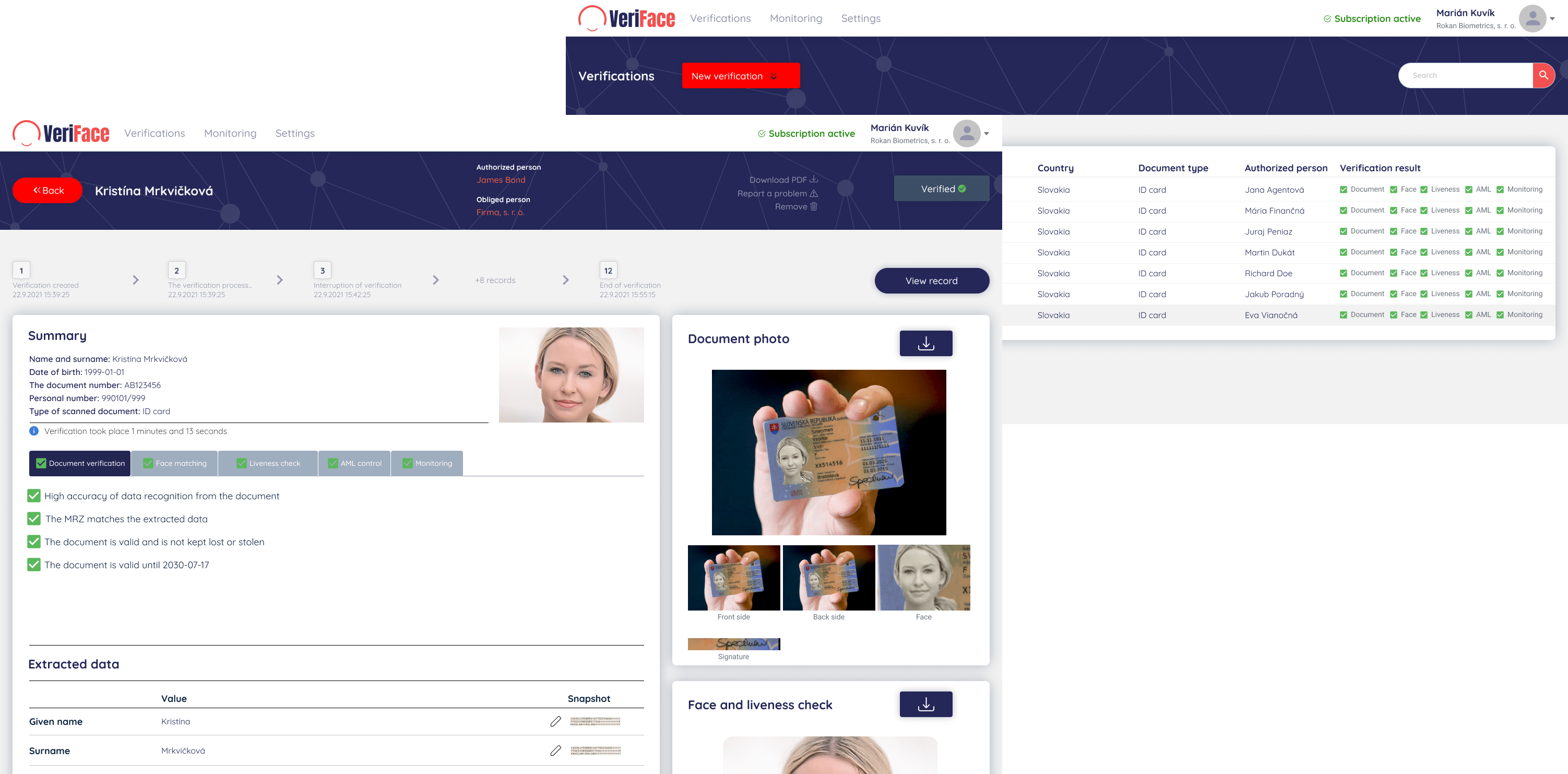 Online service with full access to verification results.
Easy navigation and control of KYC processes and customer onboarding in one place.
Detailed view of verification results
Secure storage of customer data
Fully compliant with GDPR
Real-time updates
Verification status history
Seamless integration with your corporate ecosystem
A wide range of setup and integration options that adapt to your UI/UX interface.
Ready-made solutions for automated customer onboarding with quick setup and easy configuration.
Highly customizable SDK for iOS and Android built on native technologies for seamless integration.
Send a link to customers and check the verification results immediately in the Administrator portal or be informed about them via notifications or Webhook.
Integrate our KYC solutions and customer identity verification into your platform, collect the necessary data, and get API verification results.