What is the VeriFace service?
Since 2020, technologies that allow us to operate in an online environment are coming to the fore in the digital world. We work more from home, shop online and our children are educated remotely. Financial services companies such as banks, insurance companies and other financial institutions that require authentication of their customers' identities have also had to move to an online form of delivering their services. Exactly in this, but also in other industries, the need for remote identity verification has naturally arisen.
VeriFace is the answer to this need. It is a cutting-edge service at European level that has huge potential for use today. It offers a comprehensive AML (anti-money-laundering) solution for remote customer authentication using facial biometrics. This is combined with document verification in the Ministry of Interior's database, checking of end-users of benefits, politically exposed persons, sanctioned persons, as well as regular monitoring of these data and persons in the sense of the AML law.
How does VeriFace work?
It is an online service for remote customer identity verification. It helps companies verify their identity quickly, securely and reliably. It also streamlines and automates the process of so–called onboarding, in other words, accepting new customers. At the same time, it also ensures full compliance with regulations (AML, GDPR) and prevents fraud thanks to cutting-edge biometric technology.
Who most often uses this type of service?
VeriFace can be used wherever you need to verify your identity. VeriFace is primarily used by financial institutions such as securities dealers, financial agents, financial advisors, investment companies or gambling operators. Interest is also growing in other segments, among large and small customers, whether they are mobile operators, healthcare entities, rental companies, carsharing companies, hotels, accommodation establishments, universities, but also retailers with their e-shops. This is because it has many advantages, it makes your job easier, it saves your time and costs associated with verifying customer identity and you can easily connect to it. Our clients also appreciate the accuracy of biometrics and the minimal costs associated with running the service.
What technologies does it rely on?
VeriFace uses biometric and OCR (optical character recognition) technology. OCR technology converts the data from the document photo into text form so that you can work with it further. The biometric technology is used to thoroughly compare the face from the photo on the document with a photo of the customer's face obtained during the verification process. We use proven cutting-edge biometric technology from Innovatrics, which is the market leader in this field. The accuracy rate of our technology is almost 99 percent, so I dare to say that this technology is more accurate than the human eye.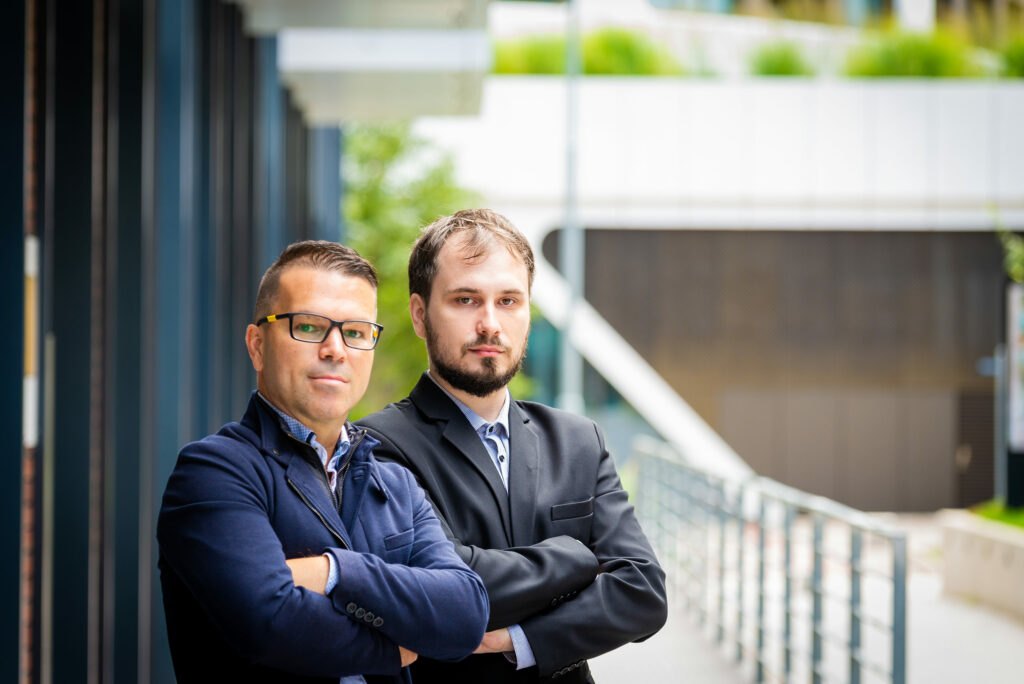 Does VeriFace comply with the legislation?
Under the AML law, all financial institutions are so-called obligated persons. They have to verify the identity of their customers according to the conditions set out in this law, but also in accordance with the stands issued by the National Bank of Slovakia and the Financial Intelligence Unit. Thus, companies that are subject to the AML law, as well as companies that are not regulated, can verify their customers with the service.
Do companies need any special technologies?
Unlike sci-fi movies, you don't need any special technology to verify your identity. A simple interface in a web browser will suffice. VeriFace is a web-based service that can be integrated in a couple of minutes. You don't need your own software, hardware, you don't pay for licenses, service and maintenance. Only the authentication itself is charged. You can try our demo version for free and then purchase a subscription. Standard subscriptions range from 500 to 10,000 verifications per year, while for large companies we offer Enterprise subscriptions, which we communicate with them individually.
And what do customers need for this?
Even from the perspective of an authenticated customer, you need nothing more than a smartphone with a camera and a valid ID. Of course, if you connect from a computer that for example doesn't have a camera, we can transfer the entire authentication process to the smartphone and then back to the computer.
What are the latest news in VeriFace?
The most recent deployed functionality is autocapture, a feature to automatically capture the document and face, which has greatly improved the user experience. Another new feature is the passive liveness check, which allows you to perform a check from a photo of the face to see if the person being verified is real, alive and not fake.
How do you plan to develop the service further?
We have successfully managed to enter the Czech market, now we are preparing to expand to the V4 countries and we would like to offer the service to the whole European market. We will develop the service so that it remains among the top solutions in the field of customer identity verification. We plan a lot of improvements regarding fraud prevention, new functionalities, improved user experience, as well as connections to other registries and databases. The most important, however, is the expansion of the service in the area of document support, and by the end of 2022 our service will be able to recognize more than 11 thousand global documents from more than 250 countries and will be able to compete with even the biggest European players in this field.